Avonwick Village Shop
Opening Times
Mon-Fri 7.30am to 6.30pm

Saturday 7.30am to 4.00pm

Sunday 8.00am to 10.00am
Bank Holidays 8.00am to 1.00pm

More information
You can find out more about the village shop on their website at www.avonwickshop.co.uk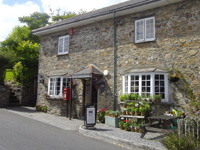 Richard and Laura offer a wide selection of groceries, bread and cakes, wines, spirits and soft drinks, dairy, newpapers, magazines, stationery, logs, as well as holiday starter packs. Locally sourced produce is available such as Luscombe Soft drinks (Buckfastleigh), Aune Valley meats (Loddiswell) and Challon's Coombe Organic milk and yoghurt (Averton Gifford) to name a few.

A special bulk Essential trading ordering club has been established for a number of years allowing customers to purchase wholefood products such as cereals, flour, oils etc at reduced prices.

Richard delivers groceries and newspapers daily to a wide area, including Avonwick, North Huish, Diptford and South Brent.
Avonwick Shop is also an agent for the Devon Air Ambulance Trust which holds a weekly lottery to raise funds for its services.
Local Delivery Service
30p per Letter: Just pop your letter into your village shop. Area covered by local stamp service: Avonwick, North Huish, Diptford, South Brent, Ugborough and Wrangaton. Letters must not contain any valuable items, sterling or cheques. Please do not use the postbox for this service.

Le Cooper Studio

Laura Cooper is an artist based in Avonwick South Devon, who specialises in portraits of animals of all kinds, landscape and seasonal themes. Commissions usually undertaken from photographs. Pop into Avonwick Village Shop to view a selection of cards and notelets or why not commission your pet's portrait!
Le Cooper Studio's Facebook page HERE