Apple Pressing Guide
Apple Pressing Guide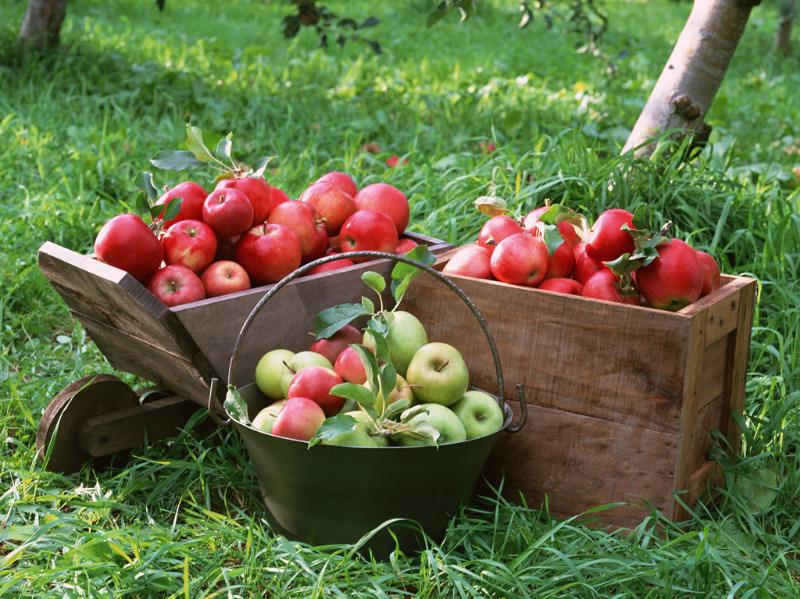 Fresh pressed apple juice tastes wonderful! Any varieties of eating apples can be used. You can drink the juice on the day, freeze it or pasteurise in glass bottles at home for use later. Of course you can always have a go at making some homemade cider!
If you would like to bring your apples to be pressed for apple juice please remove any mouldy apples, wash off with tap water any debris or mud and slice into quarters just before you bring them. You will need sterilised containers to take your juice home: empty plastic milk containers are ideal. Max weight per pressing - 25lbs/11kg apples (approx. 1 to 2 full carrier bags) should yield 10 pints/5.5 litres juice. Please bring your own rubber gloves for hygiene. Dirty or mouldy apples will not be milled and pressed. Bruised or dented apples are fine. One pressing per person or family. Please label your bags of prepared apples with your name.
The first part will be crushing your apples into small pieces. Then put in the small apple press and turn the handle and watch your fresh juice pour out of the base of the press into a container. At this point you could add your own ascorbic acid (Vitamin C) to reduce dis-colouration; the choice is yours. The juice is then funnelled into your sterilised containers. The press is then cleaned of apple bits known as 'pomice', rinsed and ready for the next pressing. You can take the pressed 'pomice' home if you like to make home-made pectin or a weak form of cider called 'ciderkin'. The pomice may be too acidic for your compost heap.
Please make sure you help prepare all the equipment for the next pressing.
DISCLAIMER
APPLE PRESSING EQUIPMENT USED AT THE EVENT IS KEPT SCRUPUOUSLY CLEAN. ONLY SOUND, CLEAN EATING APPLES WILL BE PRESSED AND ANY PRESSED JUICE REMAINING DISCARDED AT THE END OF THE DAY. HOWEVER, THE APPLE JUICE PRODUCED USING THIS EQUIPMENT IS NOT PASTEURISED AND WE CANNOT ACCEPT RESPONSIBILTY FOR ANY ILLNESS ARISING FROM DRINKING THIS JUICE.